Descriere
In the box
MyChron5S 2T, battery charger with cable, RPM cable, 1 temperature sensor + extension cable, CD Race Studio 3
Karting's Favourite System Just Got Better
The AiM MyChron5 S 2T Data Logger with two temperature inputs is our game-changing piece of kit for thrill-seekers and competitive kart racers, on scaled-down circuits and professional tracks, all you need to do is arrive and drive.
Key Features :
| | |
| --- | --- |
| Integrated 25Hz GPS | Two temperature inputs |
| 8 configurable RGB backlights | 2 configurable Alarm LEDs |
| Integrated GPS | 5 RGB LEDs configure for each gear |
| Fully configurable | Choice of sensors |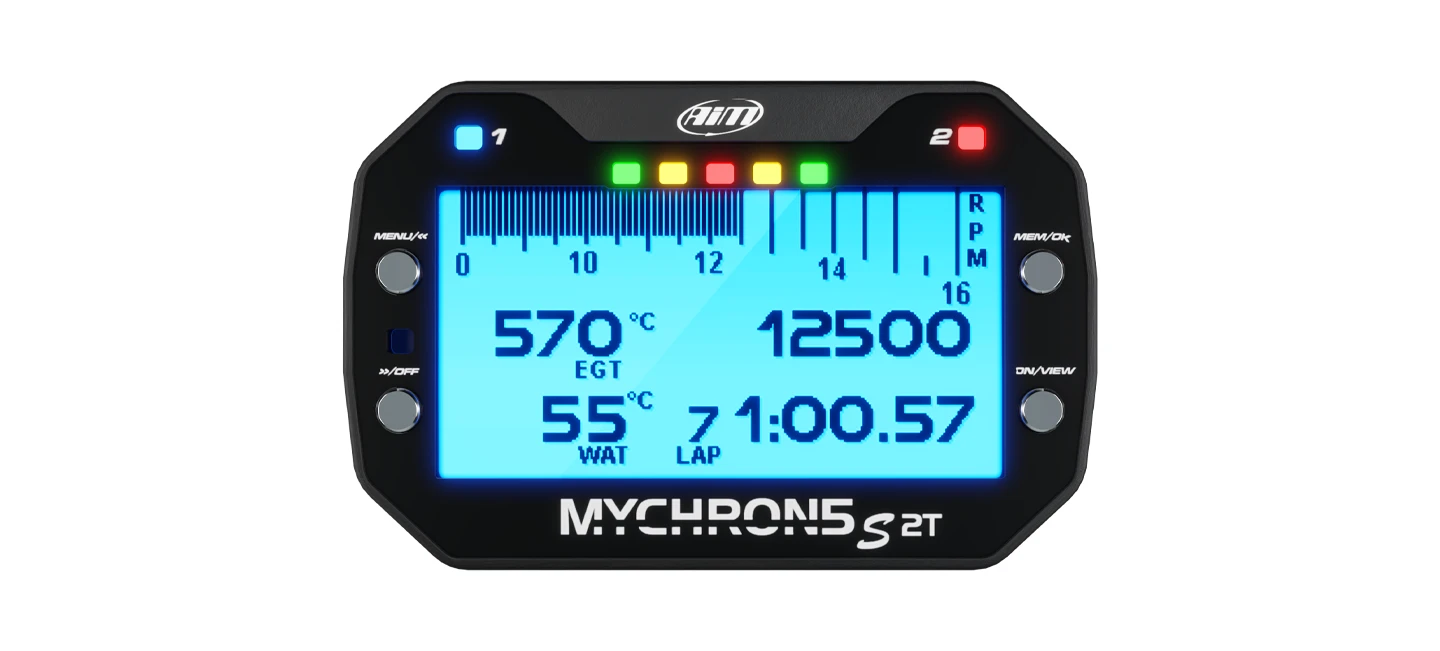 AiM MyChron5 S 2T & Water Temperature Sensor
The latest version of the AiM Mychron5 S 2T has landed. Our game-changing datalogger has been specifically designed for Kart racing whether you're on a scaled-down circuit or a professional full-sized motorsport circuit for thrill-seekers and competitive races this is the datalogger for you.
With this kit, the MyChron 5 S 2T features 2 temperature sensor inputs, which can be used to measure water temperature. The number of temperature inputs is the only difference between the MyChron 5S and the MyChron 5 S 2T.
The optional second temperature sensor is connected directly to the dash using the supplied dual/splitter patch lead, which is suitable for fitting another water temperature sensor.
Please Note: For other sensor configurations you will need to purchase an alternative patch lead. If you require further sensors these can be added using our MyChron Expansion Box - See the accessories tab.
The GPS frequency has improved from 10 to 25Hz and the precision and accuracy have been improved from about 5 feet to 2.
With integrated GPS this system takes advantage of our global track database, to automatically understand which track you're at. When you get to the track switch on your MyChron 5 S 2T and it will determine its position, identify the track and start/finish line coordinates. Even the predictive time is much more reliable. Thanks to the GPS you will know the exact time gap vs, your best lap.
The MyChron5 S 2T kart lap timer features a high-resolution graphical display with a built-in 25Hz GPS to sample and record lap times. The MyChron5 S 2T combined with a choice of water temperature sensor and RPM connection makes it the ultimate karting lap timer.
The MyChron5 S 2T logs and stores speed, lap times (including split and predictive), gear, temperature, RPM as well as data coming from the optional sensors when connected to the MyChron Expansion Box, such as throttle position sensors, brake and position sensors, steering angle sensors and the LCU-One Lambda Controller and SmartyCam which are available in our accessories tab.
With this kit, you can choose a water temperature sensor, choose either an M5 Water Temperature Sensor or an M10 Water Temperature Sensor (Rotax, X30, OK), Only one supplied.
---
Display
The MyChron5 S 2T has seven display colours to choose from. This will enable you to have a clear view and easily read numerical readouts on the track such as your lap times and lap timer, RPM and two temperature values. When your back at the paddock you can scroll through all your data on the display.
The Nylon chassis and metallic pushbuttons guarantee even more resistance to shock and water, while the anti-scratch non-reflecting polycarbonate screen and wider display offer great readability.
The MyChron5 S 2T also features an ambient light sensor providing optimum viewing in diverse lighting conditions, the display brightness is automatically adjusted according to the environment light.
---
Shift Light & Alarm LEDs
The MyChron5 S 2T features five RGB LED shift lights that can be configured for each gear. You can choose the colour and value threshold for the activation. Or configure them to show your best lap time/split time, monitor the RPM level. 
The alarm LEDs are also easily configurable to the engine parameters you require, such as water temperature, exhaust gas temperature.
---
Configurable Pages
There are various options for you to configure your display for whatever suits your viewing. You can do this via the software or the device.
The MyChron5 S 2T has built-in Wi-Fi which enables you to download your data and customise advanced GPS coordinates for split times via Race Studio 3.
You can assign a password so you can securely protect your data.
---
Rechargeable Lithium Battery
The MyChron5 S 2T is powered by a detachable rechargeable lithium battery. The battery life lasts approximately 10 hours of use.
---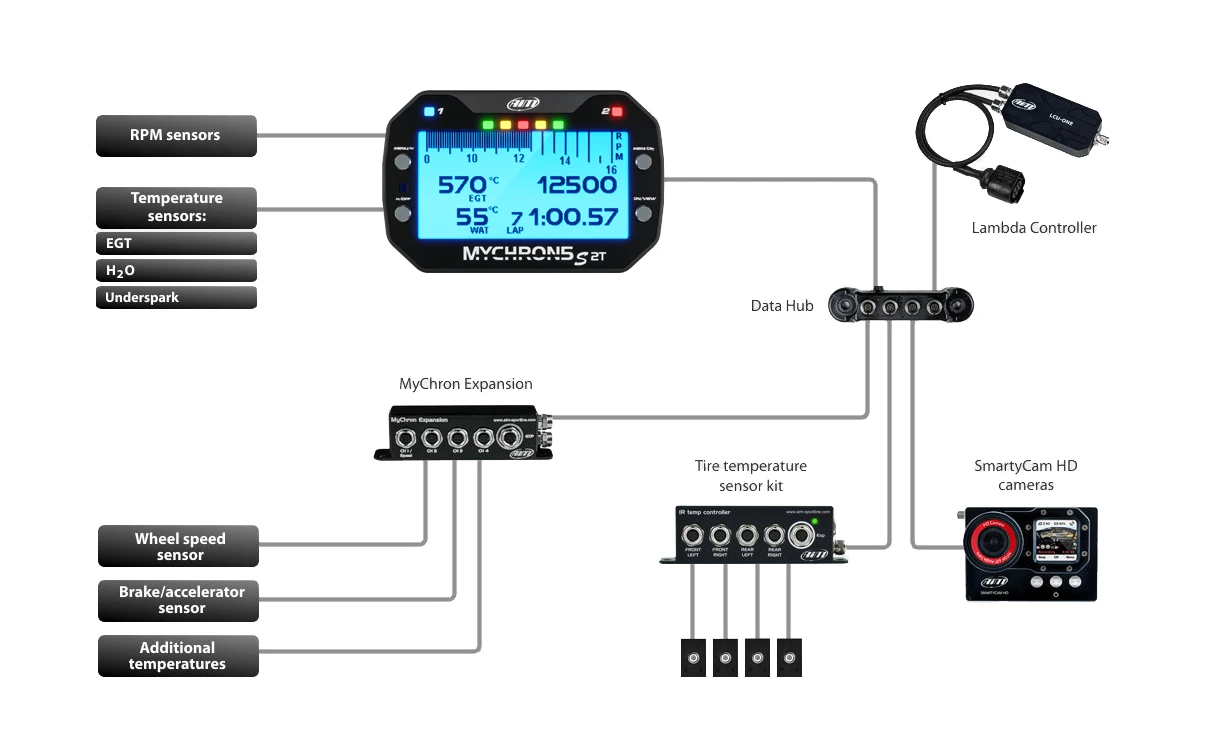 Expand Your System
These are only some of the items that can be added to our MyChron5 S 2T for incrementing the performance and the data acquired.
---
Analyse with Race Studio 3
Analysis
With Race Studio 3 you can also analyse all data recorded and downloaded to your PC: graphs, histograms and tables will help you study your performance, providing an objective support to avoid mistakes and improve performances.
Produse similare